Welcome to Traditional Turnings
Traditional Turnings has been in business since 1990 and I have been involved with wood turning for 33 years. My business is a one man operation in Melbourne. I am self taught and madly passionate about this dying craft. I would like to put some time into making sure woodturning can continue, not only as a pastime but on a commercial level as well.
As I mainly do custom work, it is you, the client who dictates my designs and profiles but I usually keep samples and templates for reference.
As such I don't have a catalogue nor hold much in stock. Feel free to browse my galleries and Instagram feed to see some of my favourite past jobs and to get some ideas. I love my job and I want to explore the possibilities with you.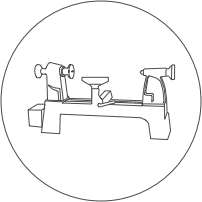 I offer an expert hand turning service, always with an eye to detail, on any of my three hand turning lathes.
I also have a couple of semi automatic lathes for producing larger volumes of copy turned work such as Newel Posts, balusters and furniture components.
Trophy bases to Table legs. Bowls to Balusters. Platters to posts. Rosettes to Baby rattles. Finials to Fob Watch holders. Light fitting and Lamps. Corporate gifts to commission works and of course, volume turning. The possibilities are endless.
While I am happy for you to supply your own material it must be fit for turning.
Pricing packages are available on request
About Peter
I have almost 33 years of experience in my field and am well regarded in the furniture, building and boutique craft arenas. What started as a hobby while awaiting the arrival of my baby girl quickly grew into a life long passion that remains just as fierce today.
There's nothing I love more than the challenge of reproducing by hand all the bibs and bobs that are bought to me. Be it broken spindles and balusters, damaged mementos, to fleshing out new design ideas. Contact me today for all the custom wood turning services you could imagine.
Verandah Posts | Door Handles | Furniture Legs | Balustrades | Finials | Custom Products
Contact
Appointments by arrangement
103 Farnham Road,
Bayswater Victoria 3153
info@traditionalturnings.com.au